Without recourse. All Rights Reserved. Tree of Life©
Statement of belief: "Sanctify them through thy truth: thy word is truth." (John 17:17 KJV)
Created 5941(?) 02 10 2027 [2010-10-19]
Updated 5941(?) 02 10 2027 [2010-10-19]
Did Venus have something to do with the Basis of
the 180th Day Feast of Ahasuerus that
Is Being Referenced in the Book of Esther?
Is Esther Hiding a Key for more specifically
Identifying the Meaning of the Mark of the Beast?
Abstract:
          This article is an extension of my study of the exactly timed events found in the Book of Esther. In order to perceive the significance of this article, please read said article before reading this one! More particularly, it was written originally within that article where it was then placed below the two pictures of the sunset and the subsequent moonset on Fri April 2, 482 BCE, the beginning of the 186th day…
          How closely were the ancients in the days of Ahasuerus able to observe the events on the celestial sky? Or else how exact were their calculations of the positions of Venus relative to the days of their calendar? Indeed, what do we know re exactly how they decided to determine and define for themselves a thing such as the closest relation between Venus and the sun?
          Be the answers to my above questions what they may, I still find the below considerations re Venus' position relative to the 180 days being reckoned in the Book of Esther quite interesting and valuable while certainly being able to alert me to the importance of certain particulars that I may wish to study into further depths in the near future…
Considerations:
Re the Position of Venus vs. the Basis for
and the Timing & Nature of
Ahasuerus' Feast
At sunset Thu Apr 1, 482 BCE Venus set over the horizon at the same time as did the center of the sun. Would it perhaps, somehow, have been possible to see Venus – the 1st evening of Venus as the evening star? - even as soon as on April 3, 482 BCE as it set behind the horizon at 17:56:38, 60 seconds after the last disappearing rays of the sunset at 17:55:38?
<![if !vml]>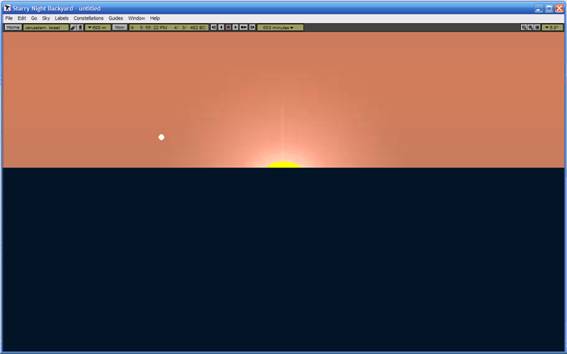 <![endif]>
When was the last prior time that Venus would have been visible as a morning star? Even as late as March 23 [Adar 19,] 482 BCE?:
<![if !vml]>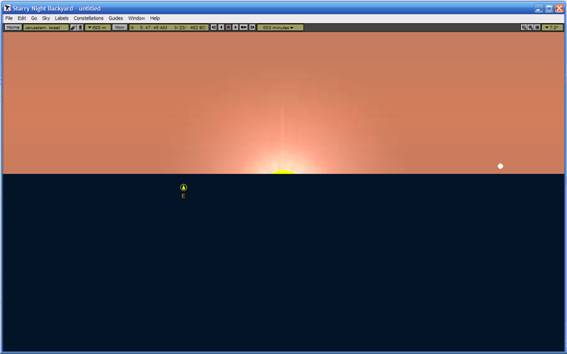 <![endif]>
Although I tend to doubt that Venus could possibly be seen that close to either sunset or sunrise, those relative relations between the sun and Venus could most likely have been calculated at that time, just as it is being done in our days, that is, whether or not it was actually visible to the naked eye!
Indeed, it occurs to me that, sunrise Tue March 23 and sunset Sat April 3 are 11 ½ days apart, thus making the 6th day of those 11 days, that is Mon March 29, the middlemost day of the day when Venus was being hidden from sight, the very midpoint being noon Mon March 29. But that day was none other than the day that began at sunset Sun March 28th, 482 BCE, that is Adar 25, day #181 in our reckoning of 180 days!... Now, if we allow a little more margin for the visibility of the evening star and the morning star, then we would obtain the following correlations:
Determining the midpoint in time when Venus was not being visible

Providing the dates when the altitude of Venus were comparable, that is, the altitude above the horizon of the last rays of the rising or setting sun

Sunrise

Middle point of the time when Venus was not being visible

Sunset

March 24

Adar 20

- 4'

Noon March 29

Adar 25

April 2

Nisan 1

- 3'

March 22

Adar 18

12'

Sunrise March 28

Adar 24

April 3

Nisan 2

13'

March 20

Adar 16

29'

Sunset March 27

Adar 24

April 4

Nisan 3

29'

March 18

Adar 14

45'

Sunrise

March 27

Adar 23

April 5

Nisan 4

46'
Thus I obtain the very interesting discovery that the 180th day, Adar 24!, fell on the very middle point in time when Venus was not being visible.
<![if !vml]>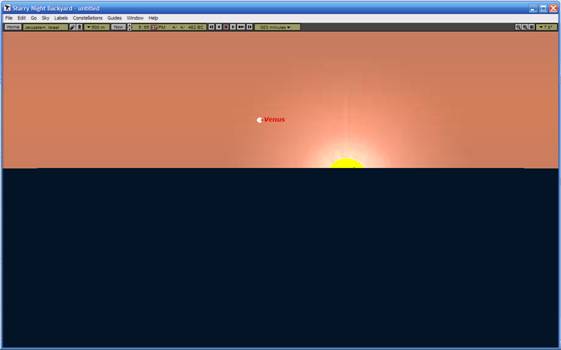 <![endif]>             <![if !vml]>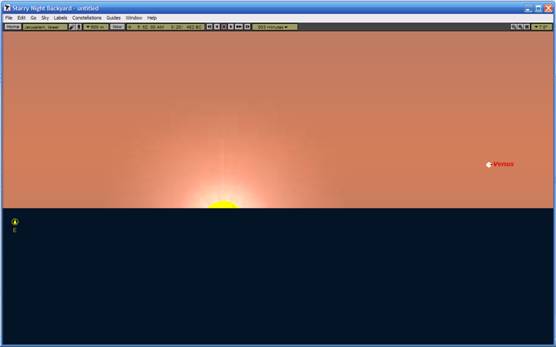 <![endif]>
These last two pictures show 1) Venus at sunset April 4, and again 2) at sunrise March 20, when Venus was located 0° 29' above the horizon (that is, immediately after the last portion of the sun disc disappeared behind the horizon.)
Considerations re the above midpoint determination vs. otherwise available records re the visibility and disappearance of Venus:
The last portion of the sun disc disappeared on April 4, 482 BCE at 17:56:12 before Venus set at 17:58:29, that is, a lag of 2 minutes 17 seconds; and on March 20 the first portion of the sun disc became visible at 05:51:53 after Venus rose above the same horizon at 05:49:22, that is, a lag of 2 minutes 31 seconds. Those lag times seem very small indeed, especially upon comparison of lag times vs. visible New Moon lunar crescents, but then, those crescents have an illumination of less than 4%, whereas, in these instances, Venus has an illumination of better than 99.97%. It should be noted that this very brief 15 day only period of invisibility is very short indeed in comparison with the current situation when "she is out of sight for almost 60 days":
"The exterior conjunction occurs when Venus is at her greatest distance from Earth and passes behind the Sun. During this interval, she is out of sight for almost 60 days. She reappears from this much longer period of darkness as an evening star in the west, called Hesperus ("setting in the west") by the Greeks." (From Zodiac Arts, Venus, Morning Star, Evening Star, by Sandra Mosley)
Another reference is giving a somewhat shorter period of time for the same current day event: 50 days (cf. this link which is providing also some very valuable references to tablets of observations of Venus from 1100 BC, and some reportedly even from 1800 BC:)
"The Babylonians: Their first astronomical texts were tables of the times for the moonrise and the date of the new moon, along with various meteorological data. These observations date back to 1800 BC. There are in fact two distinct time periods when observations were made. The first are from a remarkably complete set of observations of the rising and setting of Venus. A later set of tablets that were discovered cover a period of about 1000 years altogether, starting around 1100 BC...
"The first group of measurements were essentially contained within one document, written during the reign of King Ammisaduqua of the First Dynasty of Babylon. These documents listed the dates for the consecutive first and last appearances of Venus as an evening star and as a morning star.
"The second set of observations comes from the great capital of Babylon in what is now southern Iraq. These documents are a type of astronomical log, but also contain details about everyday life. These tablets are called the Mul-Apin tablets (the earliest dates from 687 BC), so named because Mul-Apin are the first words inscribed. Each has 3 lists of stars: 12 stars of Anu, 12 stars of Ea and 12 stars of Enlil."
I realize that this marked difference re Venus' visibility, while being near the sun, may be a cause for disbelief by many, that is, of the last considerations above, but considering the evidence inherent in 1) the ancient people's ability to create pyramids, light houses, and many other things that are still beyond the capabilities of modern technology, as well as also 2) all the evidence brought forth by Immanuel Velikovsky re Venus having been a much brighter and hotter planetary body in those centuries, or a combination of those two, I don't believe that one would be wise in discrediting or throwing out the above findings too quickly, that is, as to whether the above midpoint of Venus' disappearance was based upon 15 days between almost incredible observations, or whether said midpoint was based upon a less precise calculation of Venus' closest approach to the sun, that is, an estimated March 28 in place of an actual April 1,  based upon a longer period of Venus' disappearance!
Be such what it is, but, at any rate, if those observations truly do go back to 1100 BCE and if they do confirm currently available SNB and NASA calculations re the celestial paths of the Earth and of the Moon, then a study of those observations on my part would potentially serve to rule out my small question mark as currently based upon my findings re the date of the death of king Saul…
Re Venus, Ahasuerus' Feast, the Book of Esther,
vs a more specific understanding and application of
the Mark of the Beast
Now, what further light is the Book of Esther shedding upon each our path relative to our understanding of Venus vs. the celebrated goddess of Ishtar?
And… What is the relationship between Easter worship and Ishtar? Even in terms of how people are typically celebrating Easter today? How does typical Easter observance interfere with, or else serve to support and empower, each our willingness and ability to study and learn such lessons as are intimately tied to a real life experience of largely coinciding Scriptural special appointments in the form of the annual Feasts unto which God's own People are forever being invited each year? That is as taught in Leviticus chapter 23!
If indeed, as the within finding may suggest, the feast of Ahasuerus was intimately tied to, and based upon, Venus, Ishtar, and Easter, then I am indeed finding here a most interesting hidden – though now being revealed… – Scriptural correlation between God's, the Creator's, own eternal reckoning in time (as discoverable and recognizable only by becoming ever more intimately familiar with the Creator's annular Feasts (=appointments) defined in Leviticus 23, that is, with all the Shabbats of the Ancient of Days) one the one hand, and, on the other hand the feasts associated with Ishtar and with Easter celebrations generally.
Notice: 180 days = 60 days + 60 days + 60 days = 3 x 60 days! That is, as in the numbers 600, 60, and 6, as defined in Revelation 13:18!
Rev 13:18  Here is wisdom. Let him that hath understanding count the number of the beast: for it is the number of a man; and his number is Six hundred threescore and six.
Rev 13:18  HereG5602 isG2076 wisdom.G4678 Let him that hathG2192 understandingG3563 countG5585 theG3588 numberG706 of theG3588 beast:G2342 forG1063 it isG2076 the numberG706 of a man;G444 andG2532 hisG848 numberG706 is Six hundred threescore and six.G5516
Strong's G5516
χξς
chi xi stigma
khee xee stig'-ma
The 22nd, 14th and an obsolete letter (G4742 as a cross) of the Greek alphabet (intermediate between the 5th and 6th), used as numbers; denoting respectively 600, 60 and 6; 666 as a numeral: [KJV] - six hundred threescore and six.
It seems to me that such considerations - for anyone that is serious about pursuing the reality of eternal life, and indeed, the truths and the reality potentially available to any and all through the Holy Scriptures - should be cause for serious reflection and for mending each our own ways…
Consider also my discoveries under this link… while not forgetting the prayer of Daniel as recorded in Daniel 9:1-19… as it may apply to me and you in each our life here and now, even today…
Praise the Lord of Hosts, the One who alone can save me or you from out of the mire that we are in!
Comments and donations freely accepted at:
Tree of Life©
c/o General Delivery
Nora [near SE-713 01]
Sweden Republic© in Adamah Republic©
eMail: TreeOfLifeTime@gmail.com
Without recourse. All Rights Reserved. Tree of Life©